"I feel pretty lucky."
That's the thought that comes to Char Krahling's mind when she thinks of the heart problems that were discovered last year and has led her to continue to take strides to keep her heart healthy.
The Sioux Center resident had surgery to put in a stent in August after it was discovered she had 90 percent blockage in her lower anterior descending artery. It came as a surprise to Krahling, who hadn't noticed anything alarming to indicate her heart was under so much stress.
The first time she noticed something wasn't right was in December 2018. She and her husband, Dave Krahling, were on vacation. They walked up a steep incline and Krahling had shortness of breath and they had to take a break.
Given the incline, the cold and the high altitude of where they were, they didn't think much of it at the time. There weren't any other issues during the rest of the vacation.
But then in the late spring of 2019, the couple started doing more walks at night in preparation for another vacation.
"It got increasingly harder for me to walk without being short of breath," Krahling said.
She went to her local practitioner and expressed her concern.
"We ended up doing some testing, blood work. Lung X-ray data looked good. But still, that shortness of breath continued," Krahling said.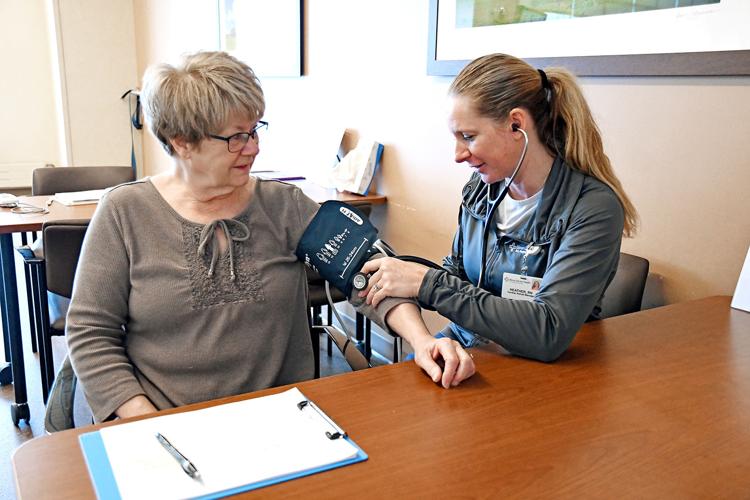 From there, it was on to the Avera Heart Hospital in Sioux Falls, SD, where she went through a stress test.
"A couple of days later, I got the phone call that I had failed the stress test," Krahling said. "I had a blockage, and they were scheduling a procedure. When they told me they were putting a prescription in the pharmacy for nitroglycerin, it got very real and I knew it was very serious."
They put in the stent on Aug. 21, 2019.
"When I saw the before and after images, I felt so fortunate that I hadn't had a heart attack," Krahling said. "I had no pain, which I guess is somewhat unusual, but women experience different symptoms. For me, it was always tightness of the chest and shortness of breath. Now that I know more about it, yeah, there were those red flags."
Heart issues weren't something that's been a part of her family's history, except for a heart murmur that Krahling and her mother have.
The issues she had experienced were subtle enough at the time, but looking back on it, they seem to have been indicators of this blockage.
One such subtle symptom she experienced sweat that she had confused for hot flashes.
One week after the stent was put into place, she began going to the Cardiac Rehabilitation and Recovery at Sioux Center Health.
She and Dave had planned on going on vacation that September, but because of how short of breath she was, they weren't sure they'd wind up going on vacation at all, especially with her surgery coming up.
But as soon as the stent was put in, she could feel the difference immediately. They ended up going on that vacation, too.
Krahling has been impressed with the Cardiac Rehabilitation and Recovery program at the hospital. She finds the staff they're encouraging and supportive.
"They're there to monitor and make sure everything is going right," Krahling said. "You get to know them and they're kind of like family. You get to know a little about their situations and families."
The cardiac program starts off participants in Phase II (Phase I is when the person is in the hospital following the surgery or procedure itself), with careful monitoring of heart rhythm and blood pressure and supervised exercise.
"You come in here the first time, and you're monitored on the EKG and they watch your heart on the screen. They pretty much know how you're doing," Krahling said.
After about 36 sessions, people usually progress to Phase III, according to Heather Marra, a registered nurse, and the Cardiac Rehabilitation and Recovery Center manager.
This phase lends people more freedom. It's also the final phase.
"You decide if you will come in once a week, three times a week," Krahling said. "They still monitor your blood pressure, but you record your oxygen level and your heart rate on your own. If something would happen, you're in a good place."
Continuing to use the rehab center at the hospital is cheap enough at $5 a visit. But it's not the cost that's the big factor in her regular attendance; it's the accountability and monitoring that goes along with it.
There are several types of machines available to use, such as treadmills and stationary bikes. Users go through all of them twice with additional time on the treadmill, spending 5 minutes at each machine. It takes about an hour to go through it all.
"It's not just a huge time commitment. You just have to be committed to coming," she said.
Since coming, she's learned some other participants' stories and why they're there.
"Some have had such serious heart issues and have overcome that and are still here after four or five years," Krahling said. "Others are just starting with the portable EKG machine to monitor their heart rate. Their stories are different, their symptoms are different. How we all ended up here is different, but it's just something that's important for us to do."
Marra said that one of the rewarding parts of working at the cardiac center is seeing people's lives change for the better after their experiences with heart problems.
"Here you see people where sometimes after open-heart surgery, they don't feel good," Marra said. "You can see things turn around and they felt better and pursue their goals of going back to work or staying healthy."
Nowadays, Krahling comes at least once or twice a week. She keeps active outside of her time at the rehab and recovery center, going for walks at the Dordt University Recreation Center.
Published by Sioux Center News