The one-year milestone of the coronavirus impacting Sioux Center Health feels like a new season of joy to Sioux Center Health's administration and employees.
"It's really meaningful that at this one-year mark we're in the process of moving toward vaccination and prevention versus diagnosis and treatment," said Sioux Center Health CEO Cory Nelson. "That's really huge for us because for so long we were just living day to day as a health care environment wondering what was going to be next. Now we can actually see what's going to be next, we can see that time on the horizon we've all been looking forward to — a time we can get back together with our loved ones. It truly feels like spring to us, emerging from a long dark COVID season."
Sioux Center Health's first positive COVID-19 test came in March 26, 2020. As of Monday, March 15, the hospital completed 4,404 COVID-19 tests, 957 of which were positive and 3,432 of which were negative for a 21.7 percent positivity rate.
Since late December, Sioux Center Health has administered 1,447 first doses of the Moderna vaccine and 1,127 booster doses. More than 100 nursing home residents and 300 Sioux Center Health employees have received both doses of the vaccine.
As of Monday, 427 doses of the Johnson & Johnson vaccine have been administered, which is a one-dose vaccine primarily used for employees of agriculture-based industries in Sioux County.
"Our whole organization feels better," Nelson said. "You can literally see an extra bounce in most peoples' steps. Along with the weather getting a bit better and not having hundreds of people a week diagnosed with COVID and dealing with the challenges associated with that has been remarkable."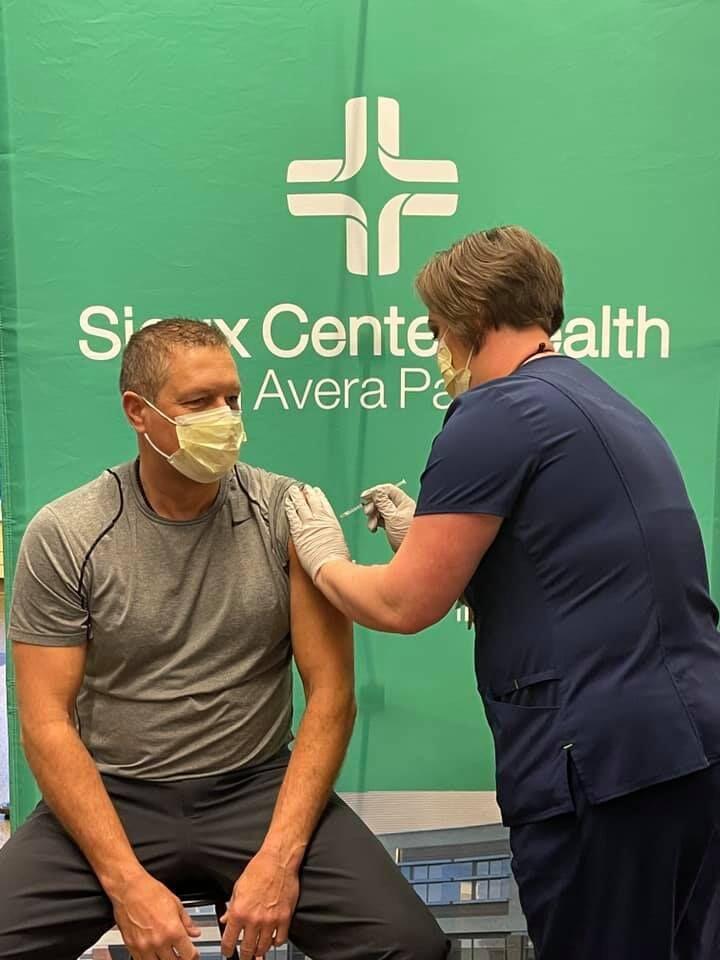 Safety measures Sioux Center Health implemented throughout the past year included the purchasing of two Skytron disinfecting robots, purchasing lab analyzers to process COVID-19 tests, implemented antibody testing, offering curbside clinics, extending Sioux Center Health Medical Clinic hours, partnering with Sioux Center Christian School to offer virtual visits, requiring daily symptom checks, health screenings and masking and adjusting visitation guidelines at its senior living facilities.
"The reason those were all so important was so that we could continue to serve and meet the needs of all of our citizens as a health care organization," Nelson said. "When you look at a couple of key factors that allowed us to do that, masking was a huge component. The second thing was probably one of the most painful things we had do to and that was limiting visitation.
"But when we did both of those things, we really helped slow transmission of the virus to our employees and that allowed us to keep going as an organization with those needed health care workers to take care of all of our patients and children in our care."
Nelson said that without a few of those protective measures in place, Sioux Center Health's workforce would have been much more at risk of being knocked out, which would have created a catastrophe for the hospital and the community.
"The amount of support that all of our team members received from the community really helped get through the day-to-day and some of those really dark times when there was seemingly no end to what was going on," Nelson said. "As cases kept rising, work kept getting harder but all of those letters, those prayers, the food, the donated masks, the supplies, the tablets — all of those things helped show our staff that the community continued to support them."
Although some safety measures such as senior living campus and hospital visitations have loosened, Nelson said a few of the protective measures may stay in place for some time.
"As more people get vaccinated and we reach higher levels of herd immunity, we can peel back a lot of these protective measures that were there specifically for COVID-19 protection, but I think there will be a few that might stay in place. For example, people are probably going to be much more inclined to use masks, especially when you're doing face-to-face patient care. And I certainly hope all that we learned in hand hygiene will stay as well."
Nelson said Sioux Center Health plans to continue and grow access to virtual visits.
"We found out very early that virtual visits could be effective for a lot of different aspects of health care delivery," he said. "We're going to continue to work on that and partner with other organizations to make sure that can be delivered."
Offering same-day patient care through utilizing physician assistants and nurse practitioners has also been a valuable asset Sioux Center Health seeks to continue.
Nelson described Sioux Center Health employees as caring, compassionate and committed to their work, especially throughout this past year when there were times such as November and December when every hospital bed was full.
"I've worked in health care for almost 25 years and have never seen anything like this pandemic and hope to not see something like this again, although it was really rewarding to see how our employees and community came together throughout it," Nelson said. "What we can all be thankful for is the incredible team members serving at Sioux Center Health and our other health care facilities in the region. They came to work every day despite the challenges and delivered amazing services. Without them, I don't know what we would have done."
His final message a year later is simple.
"I really hope people continue to consider getting vaccinated," he said. "That is one of the ways we can continue to move back toward what everybody wants and that's family and friend time, activities together. … The more people who get vaccinated, the quicker we can get back to normal."
Published by Sioux Center News