Spirits were high Thursday in the Daniel room at New Life Reformed Church in Sioux Center, the site for Sioux Center Health's public COVID-19 vaccinations.
That was the second week members of the public 65 years old and older were being scheduled to receive their first dose of the Moderna COVID-19 vaccine. Sioux Center Health had more than 200 doses available.
Stefenie Smith was one of the nurses administering the shots at the church.
"It's very exciting," she said. "People have been waiting for this. … It's been very organized here. I'm glad to be a part of it. I feel like I'm part of something bigger than me."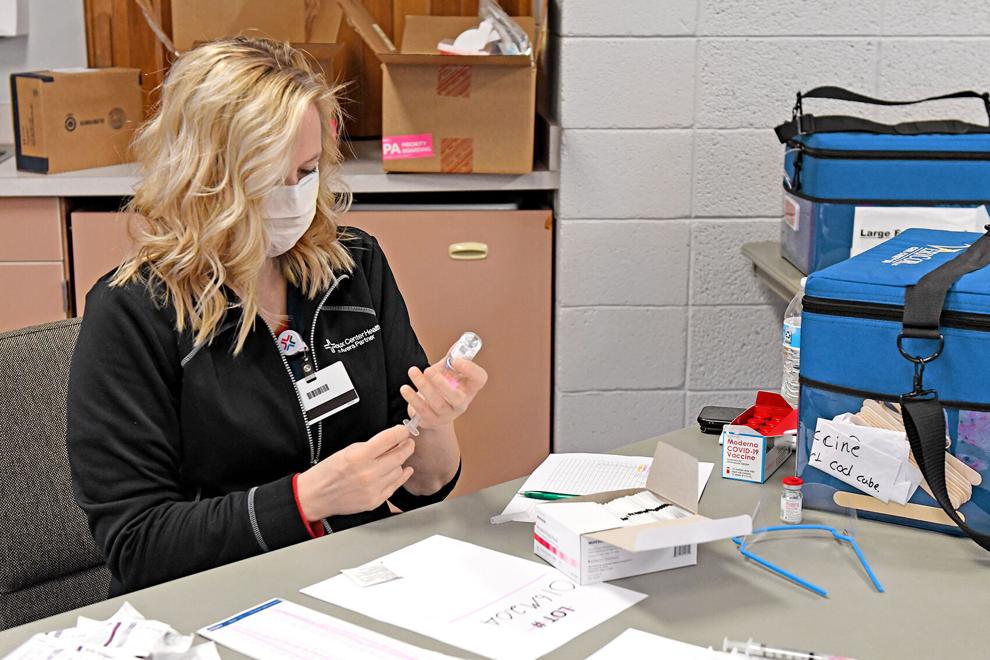 Sioux Center residents Janet Rens and her husband, Richard, were among the first to get vaccinated Thursday. Although Janet was a bit fearful of pain going into it, she was excited to get her first dose done.
Their motivation for signing up was simple enough. As Richard put it, "We didn't want to get sick."
They look forward to doing more in public again, like going to Walmart.
Jim and Marianne Sjaarda of Sioux Center also received their first doses Thursday morning. They'd waited a long time for this day to come, they said, and look forward to being out in public more.
"We've turned into hermits a bit," Jim said.
There's peace of mind now that they've gotten their first doses, Marianne said.
"We'll still be cautious, but now it's not always in the back of our minds," she said.
According to Andrew Geleynse, an outpatient services officer with Sioux Center Health, the people who turned out on Thursday had registered with the hospital at www.siouxcenterhealth.org/vaccination-registration ahead of time and were put on a waiting list. The hospital then called them to schedule appointments.
Part of the scheduling process is to ensure that individuals are available 28 days later for their second dose, as is needed with the Moderna vaccine, Geleynse said.
"We have people coming in at different times. It's spaced out for a nice flow here so that we can maintain proper social distancing and not have everybody here at the same time," he said. "It's one of the reasons we have this scheduled. If we didn't, we'd have lineups and it wouldn't be as clean of a process if we just had people show up."
He estimated there were about 1,000 people 65 and older on Sioux Center Health's waiting list.
After filling out the proper paperwork and turning it in at New Life Reformed Church, the seniors were taken to a back room at the church, the Daniel room, to receive their shots from waiting nurses. Then the seniors were taken to another waiting area where they could be monitored for 15 minutes before they could go home.
In those 15 minutes, hospital staff made sure that no one had an allergic reaction to the vaccine, which is a very rare occurrence, according to Geleynse.
He added that although rare, most reactions to the shots are in line with other vaccines: a low-grade fever, a sore arm or body aches.
Sioux Center Health receives an allotment of vaccines from the county, which likewise receives a share of the vaccines from the state. How many vaccines come to Sioux County and Sioux Center Health vary from week to week.
Geleynse said the main request from the hospital to the public is patience.
"I know there is a lot of anticipation from a lot of people to get the vaccine," he said. "We're coming up on a year now that we've all gone through this. We realize and understand that anticipation. It might take weeks or months to even get through this population, so we just ask for patience. If your name is on there, you will get a call, so be prepared for that. We just ask for patience as we navigate through this time and vaccine rollout."
Geleynse also expressed gratitude to New Life for allowing the hospital to use its building in its public COVID-19 vaccination efforts.
————————-
For more information about the COVID-19 vaccine and Phase 1B eligibility, or register to get on the waiting list: https://www.siouxcenterhealth.org/covid-19-resources/
Published by Sioux Center News