Improved COVID-19 trends within Sioux County are paying off for Crown Pointe Independent Living and Franken Manor in Sioux Center in the form of some lifted restrictions, as of Feb. 22.
Now, those facilities' residents can leave as they like, although assisted living residents must sign in and out. Residents must also wear masks in public.
Visitors from the community are free to visit, but must conduct self-screening before entering.
Visitors must wear masks while at the senior living facilities, and the 6 feet of social distancing is still in effect at all times and in all places. Visitors will be reminded by staff to do so.
Only two visitors are allowed to be in a resident's apartment at time so that social distancing can be maintained.
If a resident feels ill, they will be asked to stay in his or her apartment and to contact the nursing team. If a resident tests positive for COVID-19 or has been exposed to someone who has tested positive, he or she will be quarantined for 10 days.
Residents will continue to wear their masks when they leave their apartments.
With one week of the new rules in place, Sioux Center Health Senior Services officer Karen Bentsen said things have gone smoothly at the senior care facilities.
"So far, it's worked out well," she said. "Residents are happy to have their family come and visit them, and I've seen a number of them leave to go do things. They really like this."
These changes were made possible because Sioux County's 14-day COVID-19 positivity rate fell below 10 percent; according to Centers for Medicare & Medicaid Services (CMS) data, Sioux County was at 6.9 percent last Tuesday.
Sioux Center Health must follow CMS for its senior care facilities rules, Bentsen said.
The lower 14-day positivity rate also means that COVID-19 testing of residents and staff goes from twice a week to once a week. If someone would test positive, they'd return to the twice a week testing.
"We'd all love for things to go back to how they were before this came. I don't know if they will, but we'll just have to wait and see," she said. "We are licensed by the state and federal governments and have to abide by their regulations."
There are 132 residents at Crown Pointe, Franken Manor and Royale Meadows Care Center.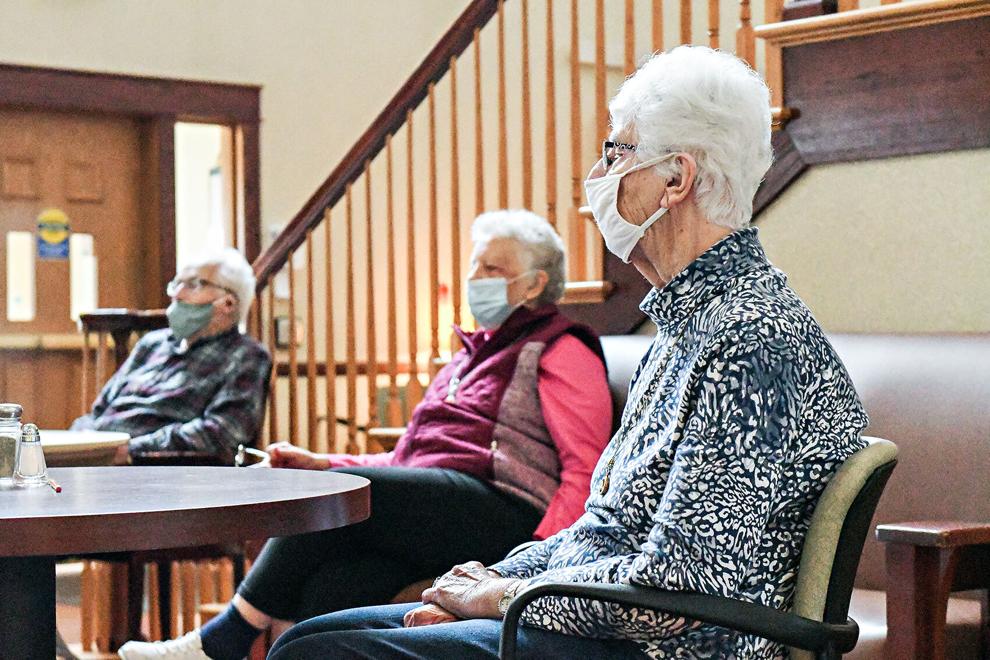 Crown Pointe Independent Living resident Werna Ver Mulm listens to some classic tunes on the piano on Monday morning. Improved COVID-19 results in the county have lessened restrictions at the facility.
Visiting guidelines have not changed for Royale Meadows, however, regardless of the resident's or visitor's vaccination status.
The rules there are as follows:
Use the SignUpGenius link to schedule all visits for families www.signupgenius.com/go/9040845a4ad22a4ff2-royale1
Please sign up only once a week so that all the residents have a chance to visit their families
Everyone must sign in and have a staff member ask the screening questions and take their temp
Everyone must be escorted into the building from the entry by staff
People cannot enter the building on their own
Only two visitors at a time in both Goldfinch and the resident's rooms
Face masks covering both nose and mouth are required at all times by visitors and resident
At least 6 feet apart from everyone must be kept during your visit
To eat or drink during the visit, the visit must be in Goldfinch so the Plexiglass partition is between the resident and the visitors
"As soon as we can lessen the visiting restrictions at Royale Meadows, we will let everyone know right away, but right now, we do have to abide by those regulations until we hear differently," Bentsen said.
Rules have not changed for the nearly 125 full-time, part-time and limited part-time senior care staff, according to Bentsen.
"They still have to wear their masks the entire time they're in the building and when they're within 6 feet of residents, they need to wear face shields or eye protection," she said. "That has not changed yet. … I'm very proud of our team members. They've done a great job. I know it's been hard for everybody, but I'm very thankful for all the hard work they've done."
Published by Sioux Center News