After an initial check of his blood pressure, Chad Wynia steps onto a treadmill for a 5-minute fast paced walk.
So began his 45 minutes of circuit training at Sioux Center Health Cardiac Rehab on Wednesday, Feb. 10.
Wynia starts his work early each Monday, Wednesday, Friday so he can take a break from about 8:15-9 a.m. on those days for his exercise regimen.
"One reason I choose to come here is because they're expecting me to be here, there's that accountability," he said. "They've taught me and encouraged me. And though I don't have to be here specifically anymore, I want to, especially through the winter to keep up what I've built."
Sioux Center Health's Cardiac Rehabilitation Center is a medically supervised program designed to help improve a person's cardiovascular health after they've experienced a heart attack, stent placement, open heart, valve surgery or heart failure.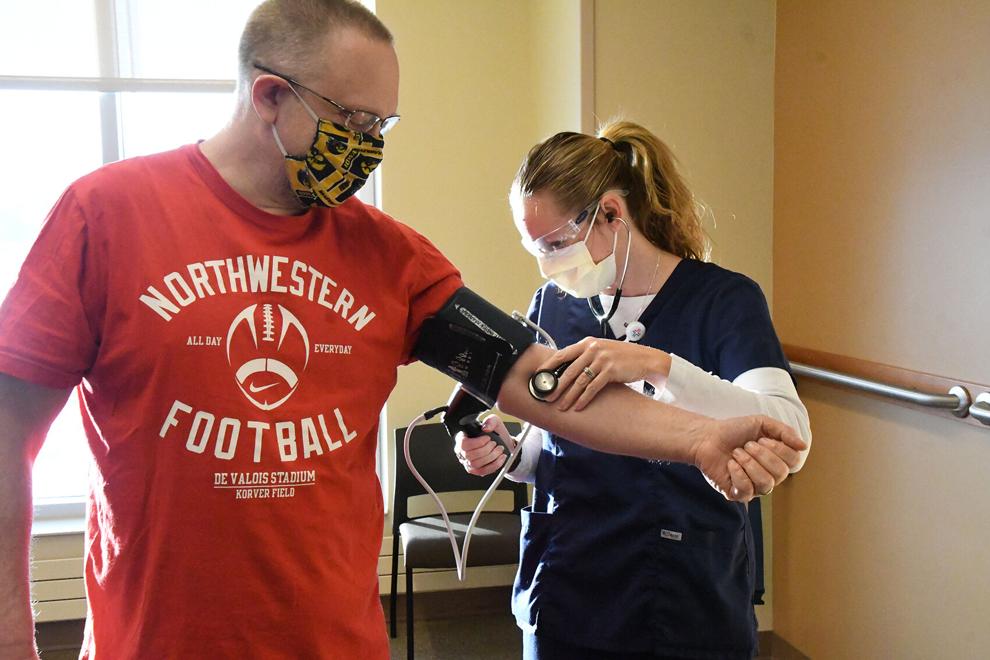 At 46 years old, Wynia of rural Maurice had a stent put into an artery Sept. 24, 2020, after doctor's discovered a 99 percent blockage.
"I'm in my mid-40s. While sometimes that feels old, having to worry about heart issues wasn't something on my mind, that was something older people deal with," he said.
Wynia, a husband and father of two daughters, is living proof of his own misconceptions about heart disease.
He began noticing chest tightness about midsummer.
"Coincidently it was a day after I did a lot of yard work that I felt a little tightness in the chest," he said.
At that time, the computer programmer for Interstates was working from home and had decided to do some yard work to get away from his desk and out of his home.
"I was walking over my noon hours everyday," he said. "After I had that first tightness, I started to notice that about a half-hour into my walk that I'd get that same tightness. And after several weeks, I finally figured I should get it checked out."
With minimal symptoms, Wynia was scheduled for and completed a stress test in which he walked on a treadmill.
"It seemed that went well overall but in the end I still had that chest tightness so I did another stress test with imaging this time," he said. "The doctor saw something he didn't like."
Wynia was then scheduled for an angioplasty at North Central Heart, a division of Avera Heart Hospital in Sioux Falls, SD, to look inside his artery. Such a procedure restores blood flow through an artery by inserting a tiny balloon catheter into a blocked blood vessel to help widen it and improve blood flow to your heart.
A 99 percent blockage was found during that procedure.
"It was hard to believe," Wynia said. "I was lucky I never had any bad symptoms but something a lot worse could have happened than that chest tightness."
Within about two weeks, Wynia started his three-times-a-week visits to the Sioux Center Health Cardiac Rehab.
Phase II Cardiac Rehab is an exercise program that his physician ordered for an individual who has had a heart attack, heart valve surgery, heart surgery, stable angina, cardiac stents or congestive heart failure.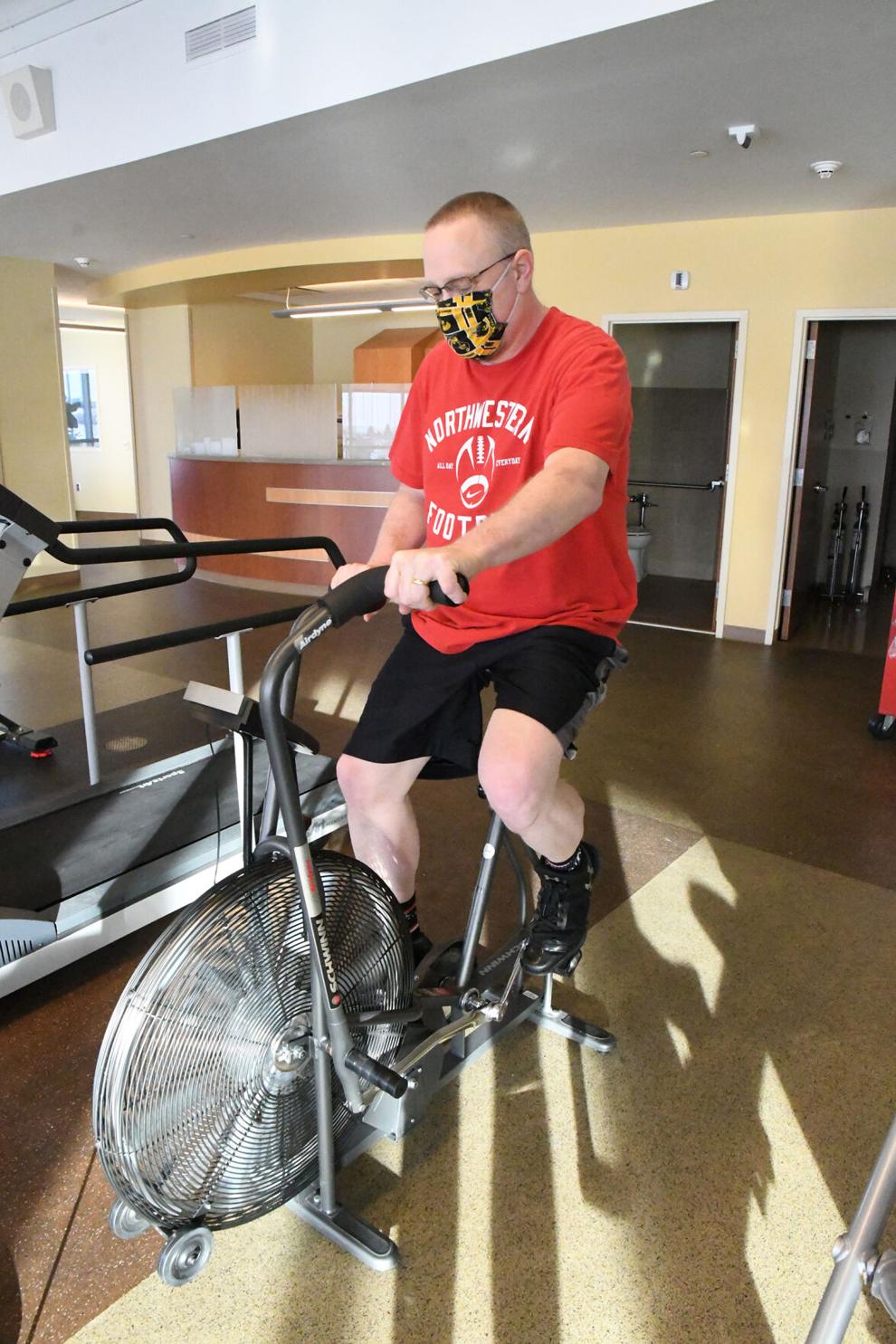 "Sioux Center Health Cardiac Rehab strives to provide a safe and effective way to help patients regain strength, feel better faster and educate to reduce the risk of future heart problems," said Heather Marra, cardiac/pulmonary rehab nurse. "We do a lot of education such as heart healthy diet, exercise, other lifestyle changes that can be good for the heart. The heart is a muscle so you want to use it but all of these things are needed together to have proper outcomes."
Wynia suspects a lack of proper diet and exercise didn't help his health situation.
"A variety of things were talked about that could have added up to what happened to me. Diet, I think, is a big part of it," said Wynia, who is diabetic. "That's a struggle for me every day right now. I had a lot of bad habits that have added up over the years and I'm still trying to break some of that."
He wasn't inactive but said he wasn't purposely trying to get his heart rate up through exercise.
"Up until a couple years ago, I was playing basketball a couple times a week but, in getting older, other things started hurting," he said. "When I stopped doing that, I stopped doing a lot of things."
Wynia also had been on a cholesterol medication but said there was a period of time he wasn't real faithful with it, which he said didn't help him either.
"I felt fine, but knowing that I had come that close to having something bad happen does make me want to try to do better now," he said. "Some days are better than others."
That's why he chose to be part of phase III Cardiac Rehab, which is voluntary for patients with risk factors for heart disease but how have completed the primary cardiac rehab required after cardiac incident.
Unlike phase II, phase III is not covered by insurance. However, it still involves a personal exercise prescription and a nurse does a blood pressure check before and after the 45-minute exercise routine. As he did during phase II, Wynia still stops after each 5-minute exercise to check his heart rate and blood oxygen levels.
"I want to make sure my heart rate is up where it needs to be," he said. "Blood pressure is something I've struggled with and it seems with the proper medication and exercise that it's under control, more manageable that it's ever been."
Wynia said he feels better than he has in a while.
"I keep coming because I don't want to fall back into those old habits," he said. "I would not ever expected to be here in my mid-40s. I'm thankful I didn't wait any longer than I did, but the stubbornness of thinking I didn't have a problem made me wait longer than I should have to get myself checked."
Published by Sioux Center News